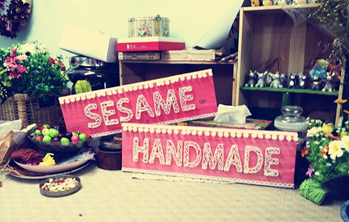 "Sesame" was a shopkeeper's blogger name since 2012. Shopkeeper planned to get married in 2012 and share the interests of marriage with other brides in the blog. In addition, shopkeeper would share self-interest with each brides such as making icing cookies, macaroon, and 3D cake, and be so happy to made the wedding gift for those beautiful brides.
As many brides were so glad to have the cookies wedding gift by shopkeeper, she decided to start-up the business. "Sesame Handmade" was founded on 2013. Nowadays, Sesame would be a full time baker and have an own workshop in Shatin. In addition to the icing cookies, Sesame also provides variety products such as 3D cake, Macaroon, Bombshell cake, buttercream. cake. Our products are tailor-made for different customer need.
Our products were made by varieties ingredient which from many countries, for examples egg from USA, butter from France, flavor from Taiwan, etc.
Sesame Handmade obtain the Food Factories License from the Food and Environmental Hygiene Department (FEHD). Our workshop conform to the prescribed safety and hygiene standards laid down by law.
License No. 2997807246
Address : UNIT 1519, 15/F., NOW COMMERCE CENTER, 19 ON SUM ST, SHATIN, N.T (Make An Appointment)
We are Hong Kong 3D Cake Shop providing Fondant Cake, Buttercream Cake, Bombshell, Cookies and Sweet Treats.